Best Hummus Options in Australian Supermarkets
Hummus is a staple of many vegan meals. Able to be added to almost any dish, it's an easy way to inject more protein (and flavour) into your diet. Stick some carrots in the tub, mix it through your salad or take the edge off a spicy curry with hummus – it's a dip with one name but many uses.
But, what is the best supermarket hummus in Australia? Today I'm taking a look at the main staples that have lined our shelves for years and come in sizes that are suitable for a diet high in hummus (I'm looking at you, 1kg buckets!).
So, what are we taking a look at today?
Obela
Yumi's
Pilpel
Some shout outs
Obela
Pros
Original comes in large bucket
Comes in other flavours and variations
Cons
Pricier than competition
Large bucket has thick consistency
Obela's hummus products have lined the supermarket shelves for years now, so you should be familiar with their red tubs. They are best known, at least in my circle, for their pine nut and jalapeno hummus tubs. If you haven't had these yet, then get off whatever chair you're sitting on and head to your local supermarket and buy at least one tub of each flavour – right now. I'll wait for you to get back.
Okay cool, so now we can speak on an even playing field. Obela hummus products are my go-to for a table hummus when entertaining. They are a perfect dip to add to your favourite bread, or accompany a vegan cheese platter. Or, if you're crazy like me – then you'll want to add the Obela jalapeno hummus to the table at your next mexican fiesta. Don't forget to try the roasted pine nut varation (yummy!).
Check out Obela Hommus on Buy Vegan and leave your own review.
Yumi's
Pros
Original comes in a large bucket
Price
Malleable texture
Cons
Variations are … unsatisfying
Yumi's is the OG hummus bucket. Seemingly ahead of the game, Yumi's realised that they could capture a market of die-hard hummus fans (hello, me 👋) who want nothing more than to smear extremely spreadable and mixable hummus on everything – even as a hair gel replacement. You know, like the Zohan.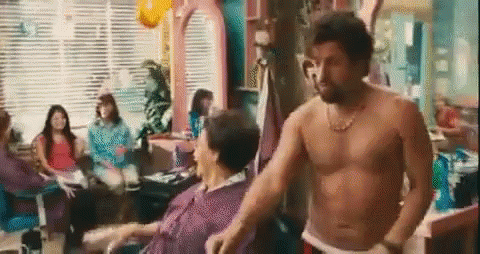 Yumi's is my go-to hummus for use in/on other dishes. Take a salad – I want to make hummus my primary dressing (for taste, protein, etc.). I don't want to smell like a garlic head and I want to be able to mix the hummus through without needing to act like I'm performing surgery to avoid my salad pieces falling everywhere. Yumi's slinks through my chopped salad chunks without fail. Take a curry – a drop of Yumi's on the side is a perfect amount of relief to cut through those hot and rich curry flavours (mmmm, curry 😋).
Check out Yumi's Hommus on Buy Vegan and leave your own review.
Pilpel
Pros
A tahini lover's choice
Delicious unique taste
Unique way of spelling 'hummous'
Cons
Pricier than competition
Doesn't really taste like hummus
Doesn't come in a super large bucket
If you are more of a tahini person, then this is the hummus for you. Honestly, Pilpel hummus feels as though it could be closer to a thick tahini than a true hummus. That being said, it is absolutely delicious. Yes, Pilpel hummus is more expensive than the competition but it is definitely well worth the price.
While Pilpel doesn't come in a 1kg bucket, it does have a 450g size that – for the most part – gets the job done.
Check out Pilpel Hummous on Buy Vegan and leave your own review.
Shout Outs
Prahran Market Hummus
If you live in Melbourne and are within range of Prahran Market, then I seriously recommend that you try the Israeli hummus at the greek grocer (on your left as you enter the market space from High St). It's super silky and delicious – a fan favourite at my home when we decide to venture a little further for epic hummus.
Black Swan Roasted Garlic Hummus
While this hummus is not a fan of mine or my household's, it does hold a special place. You know, when you are just craving a 'smack me in the face with all garlic you got' kind of moment. Or the 'I've got a feeling that I'm going to be attacked by a vampire' sense that you get now and then. The roasted garlic hummus by Black Swan is pretty decent if that's what you're craving.
Chris' Hummus
Okay, personally, I don't like Chris' hummus. It doesn't have the punch that the others do. But, it's literally been a shelf filler for as long as I can remember – so people must be buying it, right (I've never seen it anywhere but on a supermarket shelf)? Anyway, it's okay and it passes as a hummus. Please send me hate mail if you disagree.
Dari's Table Hummus
So, Dari's Table hummus is good – but again not my favourite. It plays a part in acting as an alterative to the Obela flavour variations – but instead of coupling flavour with thick hummus (Obela), it's coupling flavour with a light, almost aerated hummus. It's silky smooth and let's the flavours really pop. If you're an olive person, pick up the olive flavour for a try.
Check out other hummus products on the Buy Vegan Hummus Directory.